Share This Article
If you've been thinking about how lovely it would be to own a hot tub or jacuzzi bath, then you'll be even more convinced that it's great idea when you discover just how many benefits owning a hot tub offers you. It's so much more than just an enjoyable way to relax...
It's the perfect way to de-stress and unwind
There really is no better or faster way to unwind than slipping into a bubbling hot tub at the end of a busy day. You can lie back, shut your eyes and you're instantly transported to another world. A wonderful peaceful sactuary where all your troubles and stresses of the day instantly fade right away. Relaxing in a hot tub is as good for your mind as it is for your body. It will reduce stress levels and feelings of anxiety, leaving you feeling relaxed, contented and more positive.
The perfect pain relief
The jets of a hot tub really help to relax the muscles and it takes the pressure off your joints too. If your muscles ache or your joints are stiff, a hot tub will soothe you aches and pains and alleviate stiffness. Whether you have tired legs from spending your days on your feet, or your back and shoulders ache from sitting at a desk, you'll certainly find a hot tub beneficial. It's also a great choice after exercising.
A brilliant circulation booster
Spending time in a hot tub is also highly beneficial for your circulatory system. The warm water will help to open up your blood vessels and improve your circulation. This can in turn help to reduce high blood pressure.
Benefits for your digestive and immune systems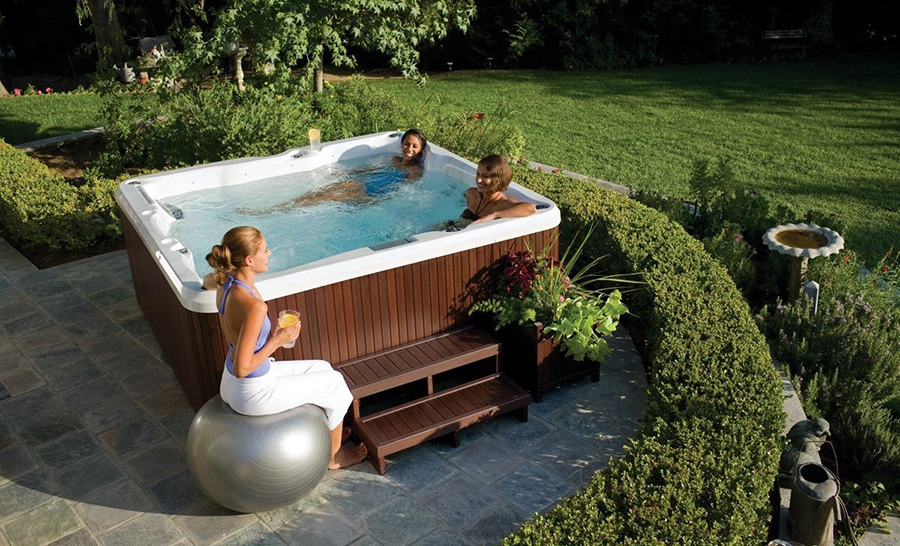 The massaging effect of hot tub jets can even help to improve digestion and alleviate digestive ailments, and it can give your immune system a boost too. You may find that once you own a hot tub, you don't suffer from as many minor ailments as you did before and fight off infections faster.
You will sleep better
So many of us simply don't get a good night's sleep. Lack of sleep has been linked to many diseases and also obesity, so getting plenty of sleep is one of the best things you can do for your health. However, of course that's often easier said than done, but a hot tub can truly help. If you spend some time in your hot tub about two hours before you plan to go to bed, your body temperature will be raised, then when you get out, it will be gently lowered again. This is believed to be the best conditions for ensuring you sleep well once you get into your bed.
Choose the ultimate bathroom hot tub
A hot tub is a wonderful, magical purchase so you need to make the right choice. We recommend the Lodge hot tub for the ultimate luxurious and decadent spa experience in your own home. The Lodge is beautifully designed, it looks stunning even before you have stepped into in and laid back in total comfort to enjoy the soothing jets of warm water. Spacious, sleek and quiet. It is the perfect choice for any bathroom. Get in touch to find out more about the Lodge hot tub today.
Share This Article